"What is your biggest challenge in initiating the loan process?" This was the question posed to bankers in a recent survey by Moody's Analytics.
The Answer: 56% of bankers reported manual data collection and further back and forth talks with client.
The commercial lending landscape to tackle the above issues has begun to witness a sea of changes given the emergence of technology and related competition. Many lenders recognise the necessity to automate their processes and thereby be more responsive and efficient to serve their customers. Automation has paved the way into the lending scenario in many ways, more particularly concerning streamlining the loan origination process through various loan origination solutions.
The Process Of Loan Origination 
Loan origination is the procedure by which a borrower applies for a particular loan and the lender processes that loan application. The loan Origination comprises six stages, as shown below:
1. Customer Pre-Qualification Details
This includes the essential list to be submitted to a lender like business details, total income, income tax returns, bank statements etc.
2. Application
This stage deals with procuring the loan application carried out either on paper or through electronic modes or mobile apps.
3. Processing The Loan Application
This stage of LOS comprises reviewing the application (by the lender) for its accuracy and ensuring its completeness. Alternatively, a sophisticated LOS solution automates the entire process by flagging various fields that are missing and send it back to loan applicants.
4. Underwriting
Post processing, the lender starts the underwriting process. Underwriting is a procedure that decides the risk in accepting the loan application based on borrower's credit, repayment capacity and collateral.
5. Negotiation
Based on underwriting, the application is approved/rejected or sent back for further information.
6. Final Screening And Covenant Testing
In the final screening, the documents are screened thoroughly for compliance with internal and external regulations and a quality check is also done. This step decides as to whether the loan is to be disbursed or not. Testing for covenants and policy exceptions is also considered by laying down methods for collecting and analysing data at regular intervals.
Once these stages are completed, the decision to disburse the loan is made. Various loan vendors in their race to become more strategic and quality-focused, are increasingly embracing the latest technological advancements for a Loan Origination System (LOS) by way of new software solutions.
Ideal Features Of A Loan Origination System
Given below are the general features that must be present in any good loan originating system:
Multiple entry points for receiving applications like the internet, mobile apps, fax etc.

Online receipt of credit bureau information 

Calculation of various credit scores from multiple inputs

Making revisions as per new amendments (internal and external)

Valuation of collateral through various interfaces

Comprehensive checklist

Analysis of bank statements

Automatically update the credit databases and process other updates. 

Customisation of the underwriting process.

Automatically upload scanned data to the server.

Generate various reports in multiple formats for decision making

Customised follow-up of loan
How Finezza Offers A More Comprehensive Loan Origination System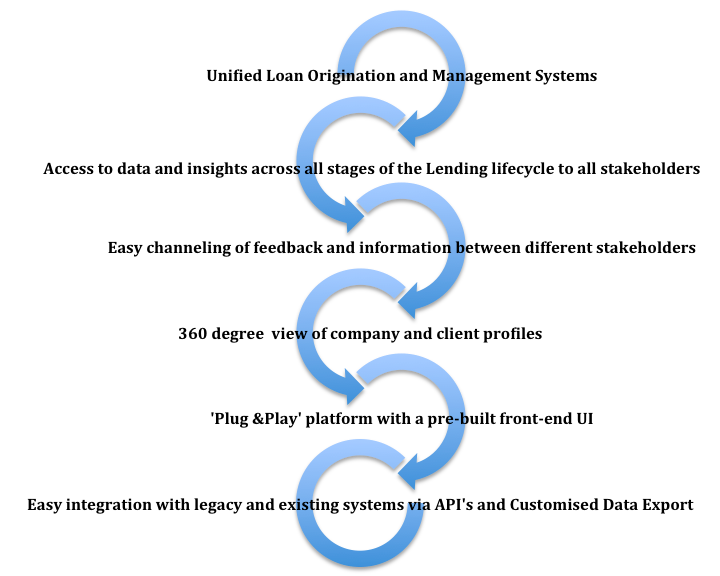 Finezza's team of tech and product veterans provides customisable and comprehensive end-to-end LOS Solutions designed to offer consistency as well as reduce the operating costs throughout all phases of loan management. We offer secure APIs and data pipelines that can be easily integrated. The security needs are factored with data-access controls.
The solution encompasses the entire lending cycle right from screening the applications to loan disbursal and follow-up. Below are some of the benefits of the solution in detail. 
Finezza combines the loan origination and management systems into one seamless flow, making the entire process of lending smooth.

With optimised disbursal processes and post-loan collection workflows and customer service, Finezza ensures a rapid and insight-driven experience for the lenders and consequently, a better experience to their end customers.
Finezza's proprietary Loan Eligibility Estimator helps blend seamlessly various data points across numerous transactions, bank account statements, financial parameters, GST, IT and Credit Bureau data to create a realistic view of the business/person who is being evaluated for a loan. It is capable of taking inputs that mimic the credit evaluator's understanding (haircuts, cash component as per industry, et al) of the business into its algorithms and builds scenarios concerning possible loans and terms that can be offered to the potential borrower.
Finezza's extensive range of tools for Credit Assessment like Bank Statement Analysis, Financial Statement Analysis, a unique scoring model that goes way beyond just the credit score to predict the repayment success of a loan applicant, etc. help to analyse the creditworthiness of a loan applicant and to cut-down the application to credit assessment time to just a few hours.
Let's take a look at how Finezza's Analytics Suite optimises the loan origination process..
Finezza's Credit Bureau Analytics:
Consumer integrations with all the four main credit bureaus (CIBIL, CRIF, Experian, and Equifax). 

Provides credit-focused grouping and alerts on data points for highlighting risks.

The LOS solution provides a loan history status, repayment history, detailed summary of borrowings, one-click detailing and 'Enquiry to Success' ratio.

It also provides a DPD analysis for all the products.

Finezza's solutions also offer all the KYC information of the applicant.
Finezza's Efficient Bank Statement Analytics:
Helps to analyse bank statements in real-time, with all accounts aggregated at an application level.

Automatically identifies and classifies different kinds of transactions, with in-built fraud detection checks. 

Finezza supports more than 250 banks and 600 formats.

Finezza gives a quick picture of the inflows and outflows (for business or non-business purposes) and the average monthly balance, among other things.

Finezza's solutions help identify monthly, weekly, and quarterly patterns of transactions.

Creates counterparty leader boards to identify the top client or vendor, based on the total number of transactions for the statement period.

Identifies cheque returns (inward and outward), aids wild card searches for specific entries, and also calculates how volatile the account is based on the fluctuations in the balance.
With Finezza, You Also Get…
A 360-degree assessment of an applicant's creditworthiness and helps you create personalised eligibility criteria.

A unified view of all loans across bank statements, CIBIL, and CRIF.

To choose the bureau you'd like to include in your calculations, select duplicate loans to exclude from calculations, and also view all the aspects of a loan (principal, tenure, ROI, and EMI) to make the right credit decisions.

View the business inflows from different banks, consider circular transactions, and view the loans classified into business and non-business.
With the convergence in the lending industry, banks and other financial institutions are pressured to sustain their revenue streams. With such high stakes, the lenders have to refine their procedures to boost their revenues while simultaneously mitigating their risks.
Today's lenders have to maximise their lending operations through competitive rates, reduced cycle time, the quick and hassle-free disbursal and closure of loans and an overall outstanding client relationship. Hence a proper loan originating solution that measures up to the market demand and competition is a necessity to offset market competition arising due to the availability of multiple credit avenues.
Finezza offers a complete range of end-to-end loan solutions that not only cater to the current needs but also provides for future enhancements. Click here for more information on Finezza's products.